For 75 years Palladium has connected with a diversity of cultures, people, and places around the world, crafting stylish utility-inspired footwear since 1947.
Take a dive into our 75th Anniversary collection, featuring three classic styles from our archives.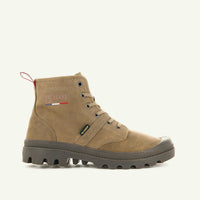 PALLABROUSSE 75TH LTH UNISEX BOOTS - BONE BROWN
- Brown / 4.5
₱8,217.00
Product Care
Our Advice
We strongly advise you not to wash your pair of shoes, whatever their material, in the washing machine or put them in the tumble dryer, as there is a risk of discolouration, degradation of the material or problems of adhesion between the sole and the upper.
Do not use bleach or bleach-based products to wash your shoes.
@PALLADIUM_PH
Explore the future with us